A little over two years prior to this exposé, fascist recruitment flyers and stickers were anonymously posted here in western North Carolina. In October of 2017, less than two months after the deadly "Unite the Right" rally in Charlottesville, neo-nazi propaganda was posted on UNCA campus. Just two months after that incident, a
Christmas parade route
in
Canton, NC
was littered with the same posters and stickers in
mid-December.
Both times the local news reported on the incidents and both times materials were found promoting the hate group Identity Evropa (IE), currently
rebranded as American Identity Movement (AmIM)
. It is worth noting that for at least the UNCA incident, the white nationalist propaganda was quickly taken down and disposed of.
In both cases local citizens, journalists, and anti-racists were curious about who had posted these flyers. With few leads to go on, researchers couldn't be sure if the two events were even done by the same person. While digging through discord chat logs from the Identity Evropa server released by Unicorn Riot in March 2018, we came across the handle "
NCSC
". In these leaked discord chats,
NCSC takes credit for putting up the flyers
and
stickers
in both incidents, gloating especially hard when the local news quoted a statement from Identity Evropa's website (way to give the fascist a platform guys).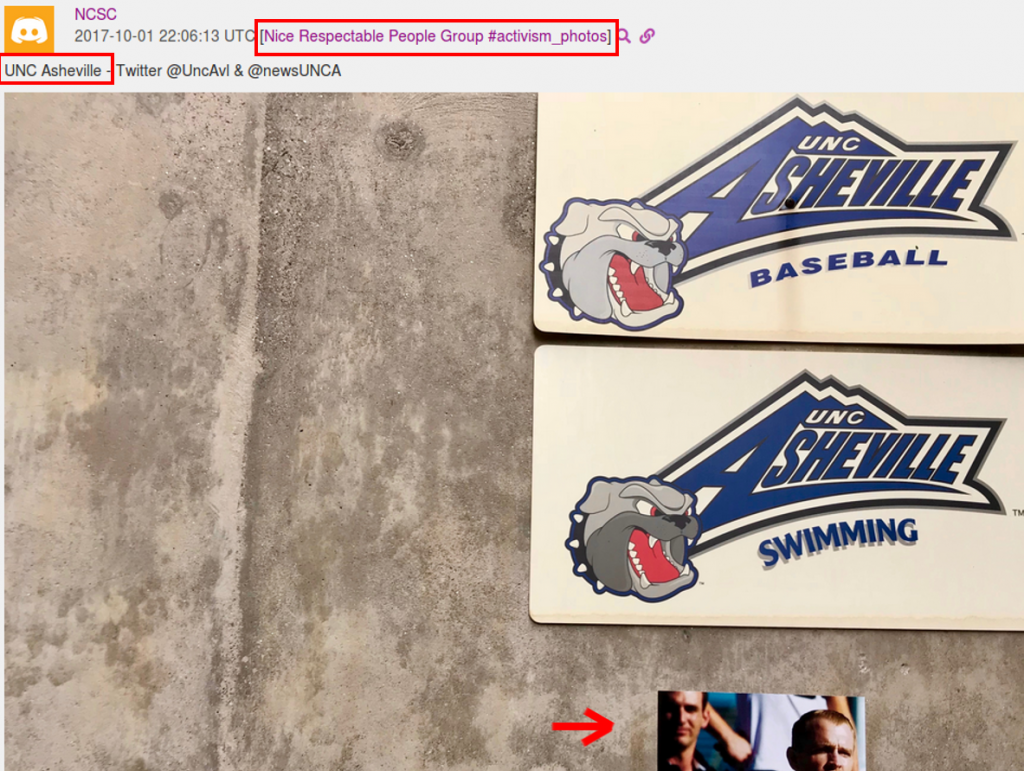 "However, I was concerned about some of the Discord messages mentioned in the article. REMINDER: Do not post negative things about other races; do not advocate violence; do not use crude language. In short, do not say anything that, if leaked, would make us look bad."
User NCSC gives us a number of clues that lead us to a clear identification of them as Somerled Macdougall. First are the posts made regarding his then soon-to-be born daughter and the plan to name her Sigrun. Then, NCSC goes on to tell us about their personal history growing up in the DC area, living in Raleigh, NC, living in Poland, and finally settling in the Asheville area.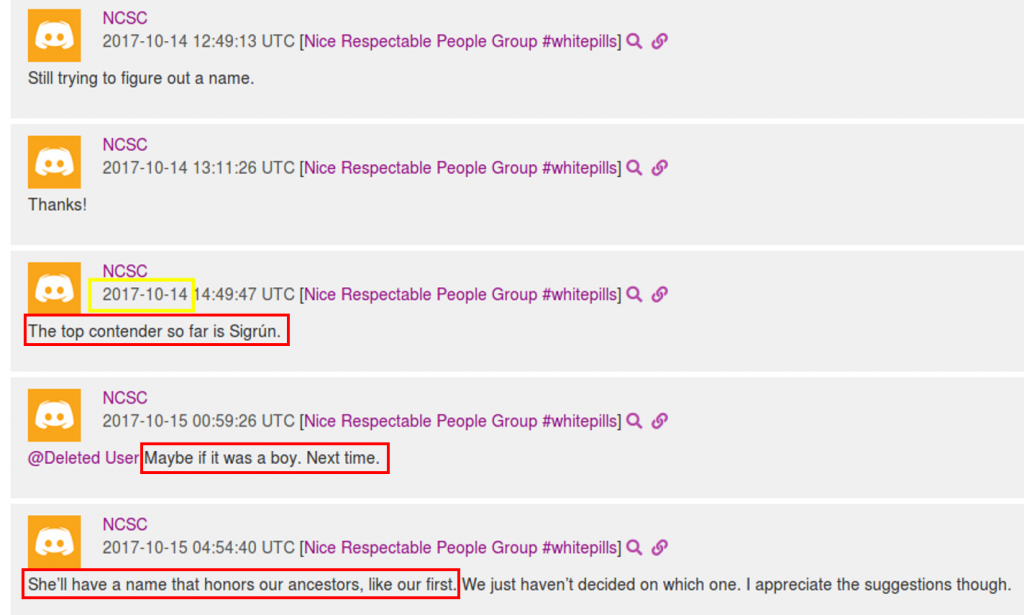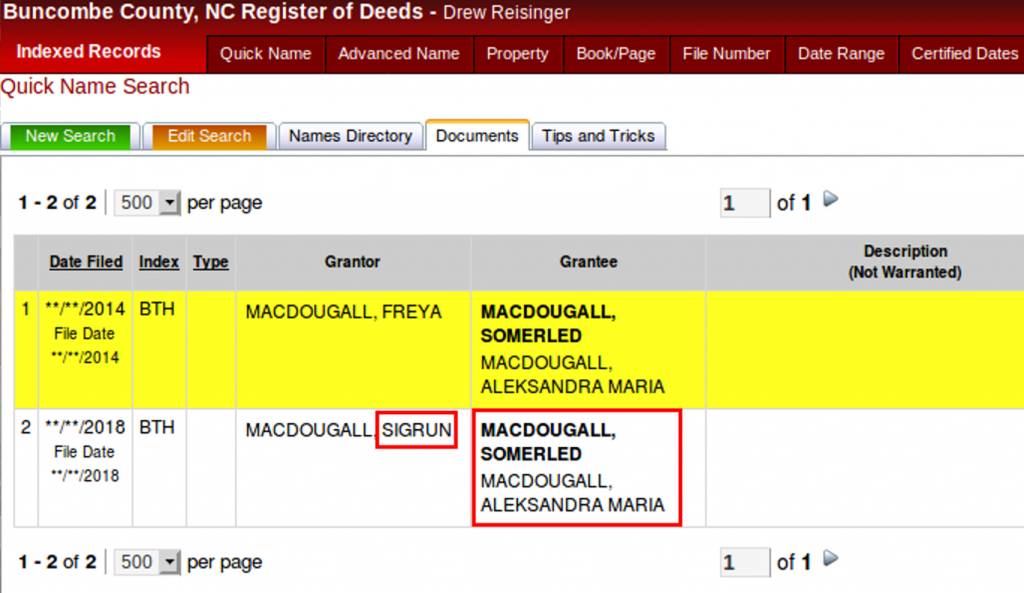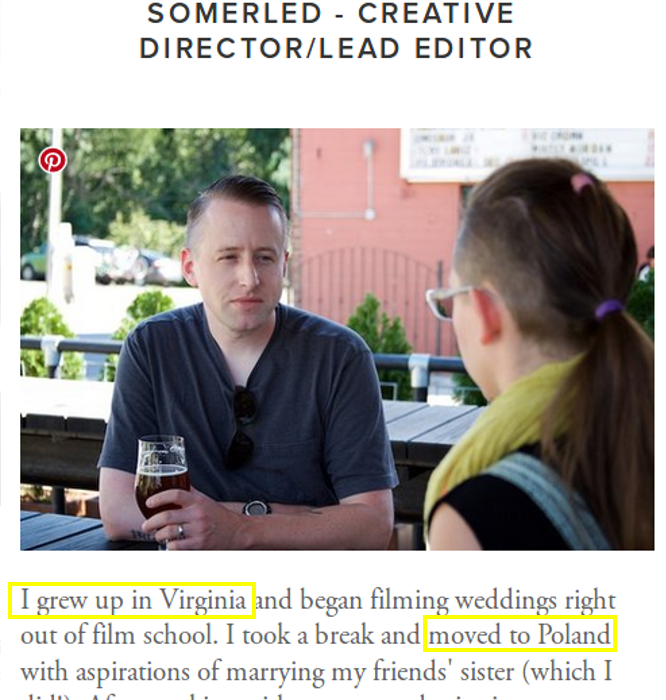 While this was enough to point us to Somerled Macdougall all on its own, we were reminded of a previous user in Unicorn Riot discord leaks that also claimed to be a husband from Asheville, with kids, and a wife from Poland. This discord username was "
deactivated
", and was a participant in the
Anticom
and
Southern Front
servers, for the groups
Anticommunist Action
and
Vanguard America
, respectively.
Vanguard America (VA) is now most notably known for it's member
James Alex Fields
' vehicular attack on anti-racist counter protesters in Charlottesville, Virginia in 2017, murdering Heather Heyer. In the wake of the deadly Charlottesville rally, VA went through it's own internal power struggle ending with a change in it's authoritarian leadership from former Marine Corps recruiter Dillon Ulysses Hopper to then 18-year-old Texan
Thomas Rousseau
aka 'Thomas Ryan'. Rousseau went on to change the name of the organization to Patriot Front, though the organization's ideology never changed from
its explicitly "American Fascist" ideology
.
For a more in-depth look at the interconnection, rebranding, and common memberships throughout the stages of the group's current name
–
from Atomwaffen Division to American Reaction to American Vanguard to Vanguard America to National Bloc to Patriot Front
–
click here
Beyond antisemitic acts of vandalism, many of the messages sent by Anticom supporters cross the line into clearly inciting violence and present serious public safety concerns. A Dropbox link posted in Anticom's Discord user iSpringfield in April contained a folder of manuals detailing how to create various forms of explosives, such as grenades and blasting caps. (In

part one

of this story, we showed how earlier chats in the Anticom server included a proposed backpack bomb terror attack against antifa protesters.)

Now, 'deactivated' also gives us a number of clues that lead us to the clear identification of them as Somerled Macdougall. Such clues include living in Asheville, the nickname "Mac", his age, his wife being from Poland, and most notably the fact he and his wife have a professional business filming events. Not only does he mention the business but Somerled offers to film the events of the Charlottesville rally for Vanguard America. The event-based cinematography business Somerled and Aleksandra Macdougall own and operate is Nine Worlds Films. Nine worlds refers to Norse mythology. As we have mentioned before, practicing Pagan religions is not inherently nefarious though many white nationalists mar the religion by incorporating white supremacy into their beliefs. Their website and contact information can be found below.


Utilizing clues from both discord usernames' posts Asheville Anti-Racism can unequivocally say that "NCSC" and "deactivated" are one in the same – Somerled Macdougall. When the account "deactivated" goes silent around the Charlottesville rally, shortly after "NCSC" appears.
In addition to other clues honing into ID'ing this fascist, there were several pictures he posted on Discord of his new property on August 18th 2017. Not only do online records confirm that his house at 118 Wisteria Way was bought on the same date, pictures of the garage on Zillow's website match up with the garage "NCSC" posted on the nazi forum. In the post he writes about how the garage had housed the previous owners RV camper which is seen in photo's on Zillow.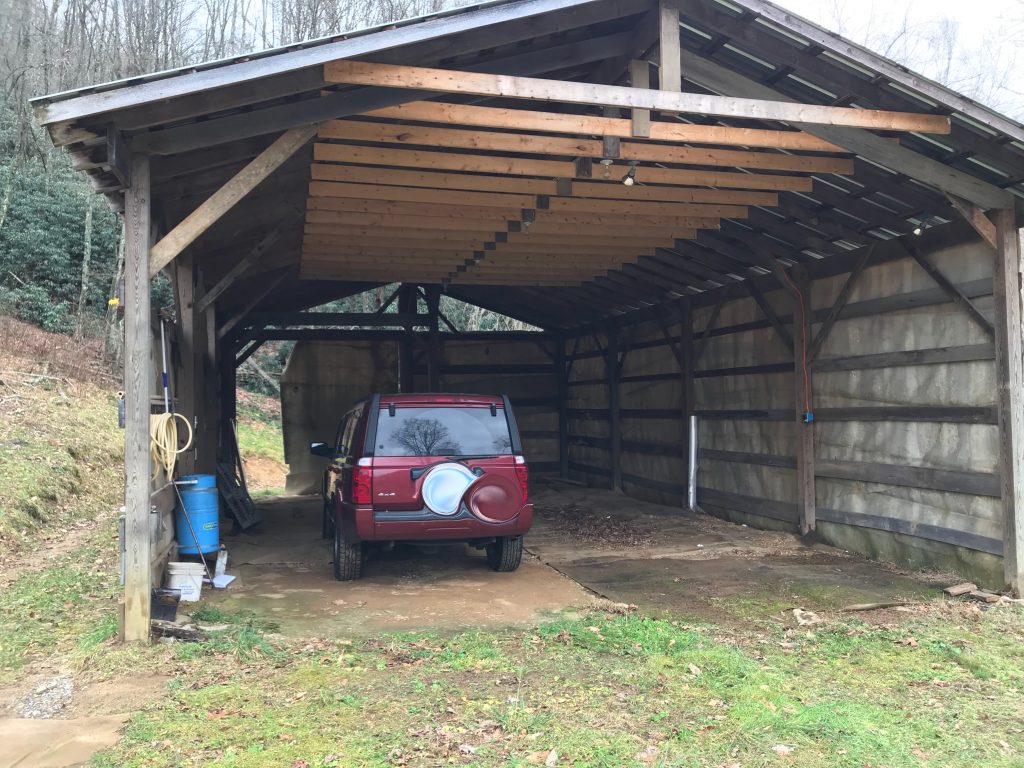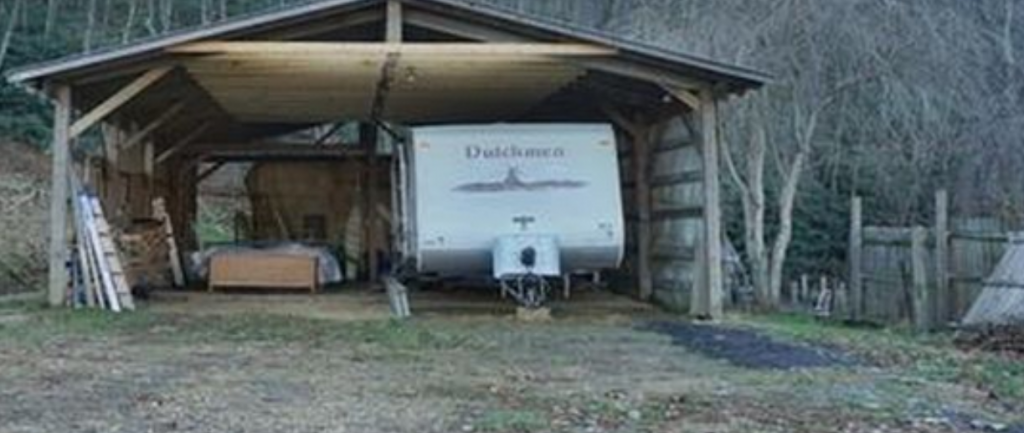 You can clearly see that the garage is the same from photos from two different sources. With the lighter/newer rafters at the top, the pulled back tarp on the backside, the single light bulb hanging on the fourth rafter in on the right of the peak, the sides matching, wooden beams having the same knots, and the broken black asphalt on the right side of the entrance lined by a wooden fence. The hillside on the left, trees behind, and dimensions also add up nicely. 118 Wisteria Way is the address associated with both Somerled and Aleksandra MacDougall.
Somerled spends ample time bragging to his Nazi buddies online about how racist his wife is. At this time we have no proof that Aleksandra shares her husband's beliefs or even knows about his fascist organizing. It would be a far stretch that she wouldn't have any idea what her husband is doing. What we do know is that when offering to film the bloodbath that was Charlottesville, Somerled insinuates that he and his wife would be happy to use their professional equipment to capture the event.
At the very best she has no clue what is going on when her husband is online instead of editing video from wedding ceremonies. At the worst she is fully aware and hides her and her husband's bigoted beliefs from clients while lining her pockets. Paying thousands of dollars for someone to capture 'the moment' shouldn't come with the risk of your friends' and family's exposure to an avowed white supremacist organizer. Maybe even more worrisome than funding hate groups with your wedding is the fact that a fascist has copies of videos of your entire wedding party. It's dangerous enough to have a white supremacist, antisemitic fascist attending an event that may have people of color, queer, or Jewish identities present, including the fact that he is filming you the entire time and backing it up on a hard drive.
Within the leaked discord chats connected to the user "deactivated", Macdougall mentions that he runs a twitter called
@DailyRA

C
. 'RAC' stands for "rock against communism" and is a historically reactionary Nazi-skinhead/white power punk rock "movement". RAC was a direct fascist response to "Rock Against Racism" concerts that were popular in the UK in the 80's. In the profile bio he writes ,"
#blacklivesmatter is an opinion
", followed by "
#altRight
". Just in case sneaky Somerled tries to deactivate his twitter in the wake of this exposé, we archived it
here.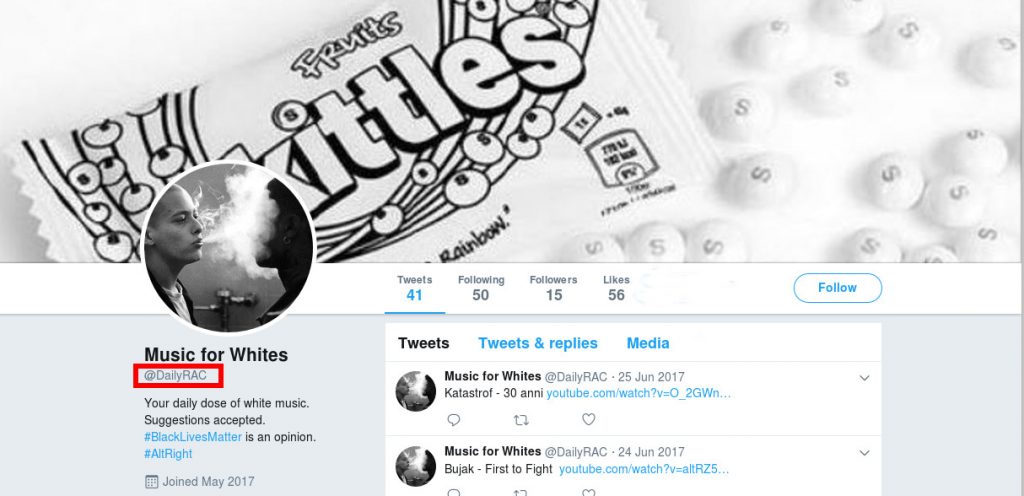 Make no mistake, there are those who wish to claim these mountains for their own hate-filled ideology. Fascist organizing is a threat to our communities and our communities deserve better! When the seeds of hate start to grow into weeds, pull them from your garden by the root. If you have any tips/information you'd like to share with us, reach out via email at ashevilleantiracism@riseup.net. And remember, don't give him an inch.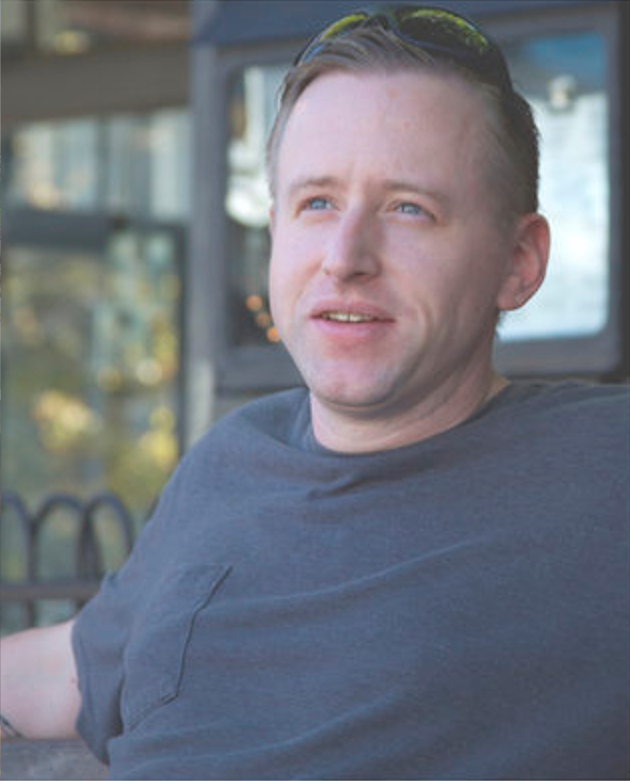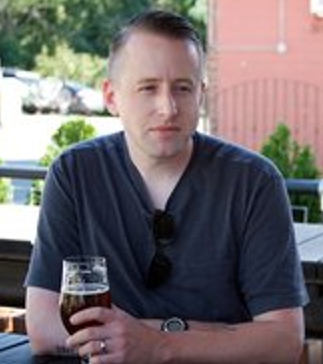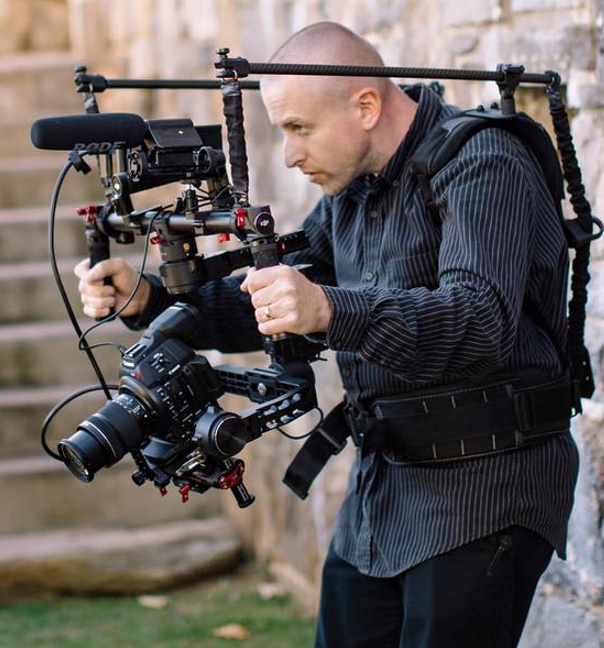 Previous name: Michael Andrew Mcdougall
Vehicle: Maroon Jeep Commander 4×4 SUV
Email: somerled_dc

@hotmail.com

Social Media: Twitter
Employment: Owner/Manager at Nine Worlds Films, LLC