AAR and affiliates camped out the night before the action in a storm. Asheville Food Not Bombs cooked up some awesome tacos and we ate while sitting under a large pop up going over strategy. We woke up early to meet up with local organizers and Antifa groups from as far away as Miami and Chicago. Our group was around 30 deep, including street medics. All together there was over 400 protesters at this event.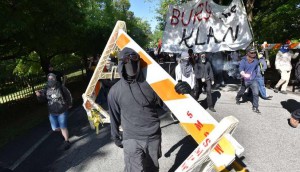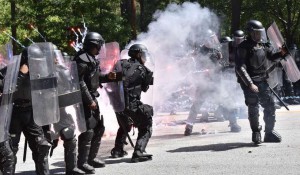 We showed up in force and participated in storming the gates at Stone Mountain April 23rd 2016. The first line of cops were state troopers at the gate, we veered to the left and kicked down the fence and proceeded on at a quick speed with cops running after people with bandannas on and punching and yelling. VID One of our comrades from Asheville got arrested for allegedly violating the Georgia mask law. They got out the same day and is now back home.
We maneuvered around the park through trails, train tracks and through the woods with other groups including Antifa International TORCH Antifa, All out ATL, Rise UP!, Black Lives Matter, Black Panther Party and the Huey P. Newton Gun Club. Antifa owes a lot of our safety from the riot cops to the gun club. We could have been scooped up by the pigs easily, but having guns behind us was a game changer.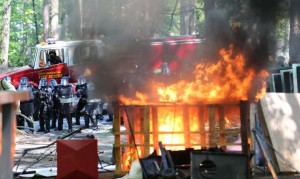 We cannot stress enough that de-arresting people was also a big factor in the momentum of the protest. There were more than twice the amount of de-arrests than arrests. Setting up barricades and bypassing riot cops was the only way to get to our objective. After getting as close to the KKK as we could we held the line with all these other groups. The 25 white power klowns were contained in a fenced in area on a large scorching blacktop parking lot. They were surrounded by riot police. 150 yards away were held in the treeline by SWAT, state police and park pigs. The park had to shut down muliple attractions, including the laser show and sky car. When things were winding down we went back to the convergence space for debriefing and food provided by Seeds of Peace.
We are now working on raising funds for the nine folks who were not lucky enough to get ripped out of the hands of the state. One anti-racist is looking at felony charges for allegedly throwing a "smoke bomb" at the riot cops. He is facing up to 20 years if found guilty. AAR members were there on the ground and know for a fact that it was not this person throwing projectiles of any kind, but he got pegged for it anyways. He is innocent of these accusations and we are trying to raise enough funds to get him proper defense.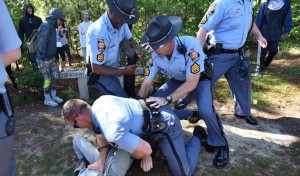 Also in attendance at Stone Mountain was a man named Gabriel Diaz, AKA "Mohammed Abdali". He has been officially outed and has been thrown under the bus by his own "buddies", the NSM (National Socialist Movement). He operates out of NYC, Bronx area and was even down at Stone Mountain, GA counter protest taking pics of Antifa. He was wearing a grey tshirt with yellow ink spelling "ANTIFA" . Don't give him a fucking inch!
Link here. The Enemy Among Us
AAR