Carrie Lynn Pierce AKA Heather Wesley AKA "Raven"
Aliases: Carrie Lynne, Rave Hex, Raven, Hex 13, Scarrie Carrie, Heather Wesley, Valkyrie, Northern Valkyrie
DOB: 08/01/1979
Physical Description: White, 5'0″, Approx. 250 lbs, hair died dark, blue/green eyes.
Address: 300 Falling Leaf Lane, Apartment 316, Asheville, NC 28803
Vehicle: Late 2000s black Chevy Cobalt, 4-door sedan.
Formerly of: Yorktown, VA, Newport News, VA, East Otto, NY, and Warner Robbins, GA.
U.S. Air Force Veteran
Job: Skyline News "Investigative Journalist". By the minute phone psychic, online tarot reader/psychic, failed ghost-hunter, inactive online candle company, Carrie Lynn's Candles.
Online Accounts:
FACEBOOK
Heather Wesley –
https://www.facebook.com/merideth.baker82
Raven Hex –
https://www.facebook.com/valentine.hex
Carrie Pierce –
https://www.facebook.com/egyptianpancakes
Scarrie Carrie –
https://www.facebook.com/scarriecarrie.pierce
Elizabeth Andrews –
https://www.facebook.com/izzylizzy82
NC Conservative Goth Kids –
https://www.facebook.com/NCGothKids/
TWITTER
https://twitter.com/folkbunny79
https://twitter.com/thedeadhour
PINTEREST
https://br.pinterest.com/valkyrie79/
ETSY
https://www.etsy.com/shop/CarrieLynnsCandles
MINDS.COM
PARLER
https://parler.com/provile/Hex13/posts
INSTAGRAM
https://www.instagram.com/valkyriex1/
Excerpt from Cesar and Carrie article published in 2018 where Carrie Pierce was first outed, though the focus of the article was on Cesar Armando Arvelo Santos and his life-long history of National Socialist (read Nazi) organizing:
Carrie, is not just complacent with Cesar's fascist ideology, they actively participate in it. From attending pre-August 12th Charlottesville rallies held by white supremacists to chatting it up with his douchestaffel, goose stepping friends online. If you ever happen to get your tarot read by Carrie, be aware that whatever you tell them will be reposted on her personal Facebook mocking your problems.

Self proclaimed "investigator" and online troll, Carrie Lynn Pierce has been feeding information to the far-right and more modest conservatives online under the alias "Heather Wesley." While some people are wise to who she really is and are knowingly spreading misinformation about her identity, many conservatives locally have no clue who they are actually communicating with online. She masquerades as a middle of the road conservative who only wants to protect the status quo and encourage people to vote for Trump and Madison Cawthorn.
Carrie's true intention is to deceive and inject her own campaign of bigoted harassment into the forefront further radicalizing conservatives. Her reality is so far removed from the online personas she uses, we hope this article will shed light on her current positions and past affiliations. It's important that all understand her network's connection to Carrie's personal harassment campaign against her perceived opponents.
******Brief Note: For viewing larger images that may appear pixelated in this text, we recommend downloading those images to your non-mobile device and viewing them there in order to see their full detail and all their text. We always recommend scanning files before downloading them from any source you don't fully trust, for viruses or malware of any kind. Always better safe than sorry. *****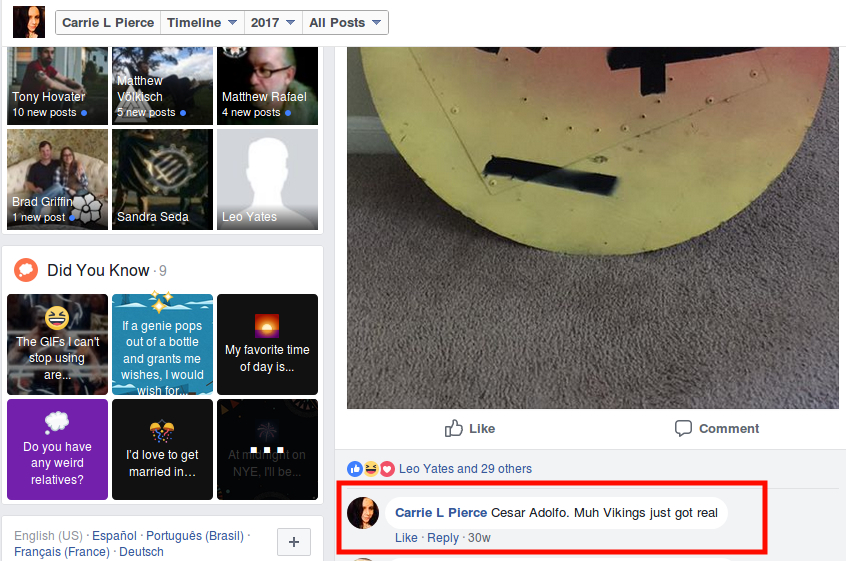 Carrie Pierce may not ring a bell to many people outside of radical right and antifascist circles. She was simply a small feature in an exposé about her husband Cesar Arvelo Santos, a life-long virulent fascist who held rank in the now defunct Neo-Nazi group the Traditionalist Workers Party (TWP). Cesar was exposed as a "Commander" of TWP in 2018. Cesar was not only present at the deadly "Unite the Right" rally in Charlottesville, Virginia, he lead charges of Nazis in shield wall formations that descended upon the university city. We initially made brief mention of Carrie in our article about Cesar not only because of her complicity in his fascist organizing, but also her participation in it. At the time we'd put together a report on Cesar, Carrie seemed like small beans or low hanging fruit compared to her hubby, but now that she has become embedded within local conservative circles (largely under false pretenses), she now deserves her own article.
It's interesting to note that while we can neither confirm nor deny whether or not Carrie Pierce was in Charlottesville, VA for the Unite the Right rally back in 2017, she was marked as "going" for the event according to Facebook and certainly took part in lots of discourse leading up to it with her Neo-Nazi and White Nationalist friends. One part we'd like to point out is the hilariously incorrect prediction "Carrie the Psychic" makes in the comments of her post. Doesn't seem worth 2.99$/minute to call her hotline…
Carrie Pierce under her alias "Heather Wesley" is one of the most incessant posters and personalities on several "private" conservative pages on Facebook. She provides personal information on any she deems her enemy to Chad Nesbitt of "Skyline News" as an investigative journalist, Adrian AJ Fox (running for sheriff), Sanjit Patel, a local provocateur via West Asheville Neighborhood Alliance (WANA), and various other local goons. People should be alarmed that the information they are being fed is coming from a such a clear source of violent white supremacist ideology. Her audience might find a foul taste in their mouth if they knew of her Neo-Nazi connections. After all, the main membership of these pages tend to claim a vague form of patriotism that allegedly denounces racism and fascism. Even more alarming is the fact that Chad Nesbitt and Skyline News are completely aware of the fact that "Heather Wesley" is in fact Carrie Pierce, and actively provide her with a platform for a continuous, baseless targeted harassment campaign. This is not by mistake; the thirst for attention and notoriety dismisses any concerns of accurate reporting by Skyline News. With this tactic, Chad Nesbitt's credibility goes (even farther) out the window along with his concerns for his readers' safety.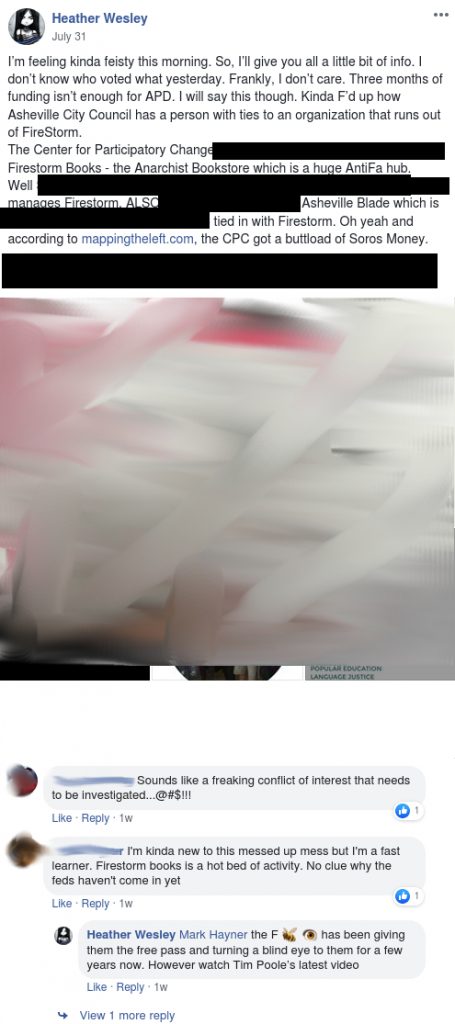 Chad Nesbitt of the pseudo-news source "Skyline News" has made mention of his prized "Investigative Journalist" online before, and on their birthday nonetheless. On August 1st, Chad Nesbitt wished his journalist "Raven" a happy birthday. As noted above, Carrie Pierce's birthday is August 1st, 1979. Carrie has an alternate Facebook account under the moniker "Raven Hex". Not only does Carrie use the moniker "Hex13" for her Parler and Minds.com accounts as per 'Heather Wesley', she also uses her birth year in many of her main accounts. Carrie's twitters are @Cpierce79 and @Folkbunny79. Thanks to Chad Nesbitt's awful security culture, and Carrie's extensive online fingerprint we can confirm that the "Raven" whom Nesbitt is referring to is none other than Carrie Lynn Pierce. Thanks Chad, and happy late birthday Carrie.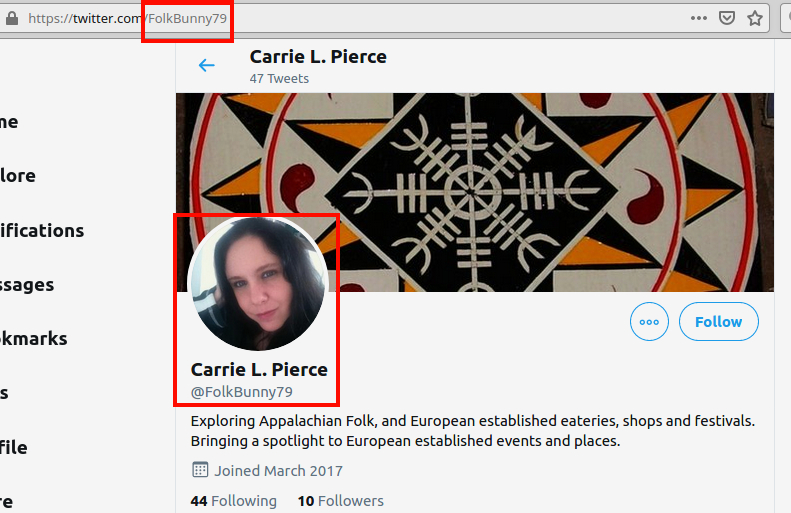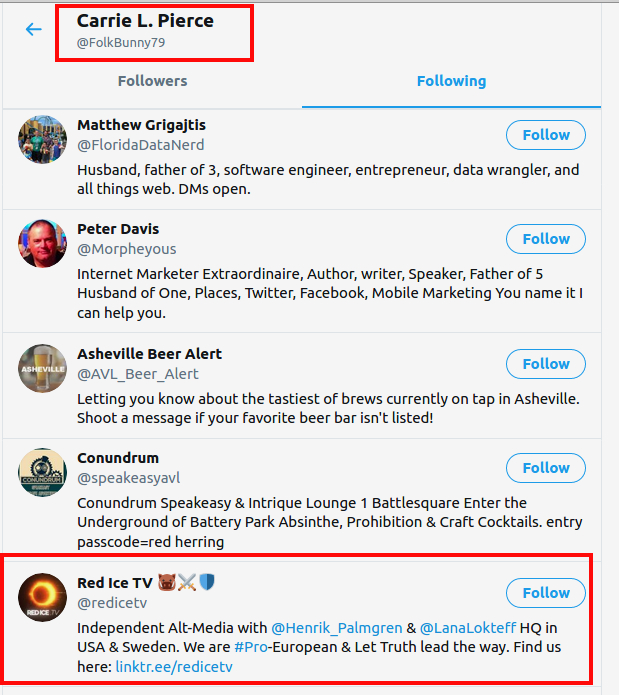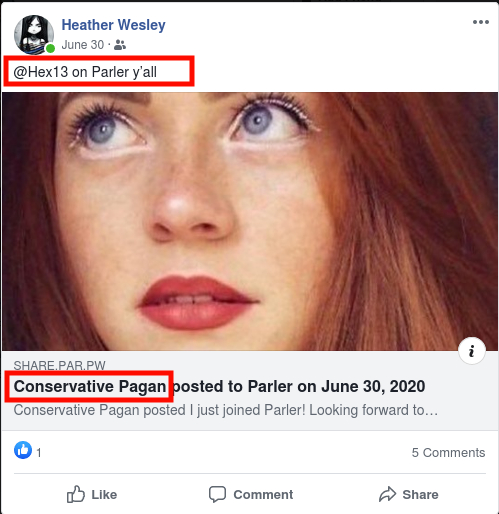 Unfortunately for Carrie, the connections don't stop with Nesbitt's loose lips. As you can see below, Carrie Pierce and Heather Wesley's accounts share quite a few similarities. Both accounts are self-proclaimed Norse Pagans, anti-Communist, anti-antifa, have a military background, and adhere to the "Goth" style. On her account as Heather Wesley, Carrie even admits that she isn't who her fake account reflects. Notice that on March 16 both Carrie's main account and her Heather Wesley account updated their profile picture with the same exact frame. Carrie's "Heather Wesley" account also regularly interacts with Chad Nesbitt and his wife Nancy Nesbitt. Carrie's main profile and her Heather Wesley profile interact with and have mutual friends. Carrie even uses a fake liberal Facebook account to gather information on the left.. This additional fake account also has mutual friends with Carrie's "Heather Wesley" profile. Carrie's need for retribution and validation has left a messy but cohesive trail of her online motives and movements.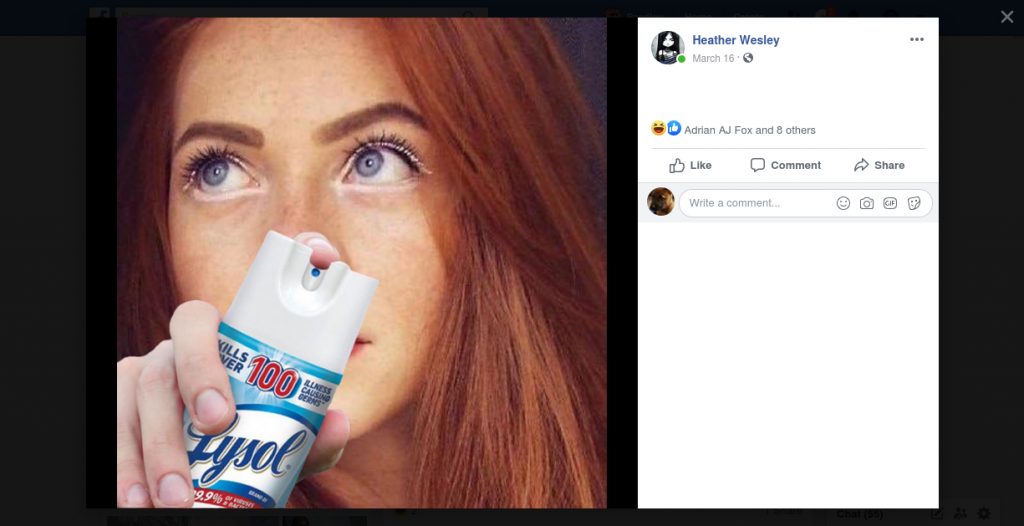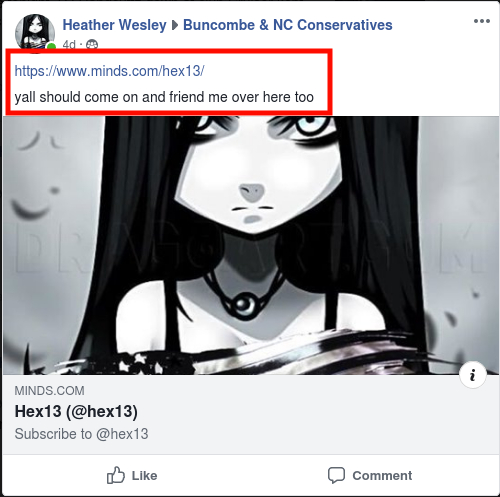 Carrie incessantly posts on conservative Facebook forums as "Heather Wesley" and moderates a few as well. Not only does Carrie moderate for Buncombe & NC Conservatives Facebook group, She runs WNC Conservatives Underground. WNC Conservatives Underground is a forum designed to gather information on the left and used to harass and intimidate community members.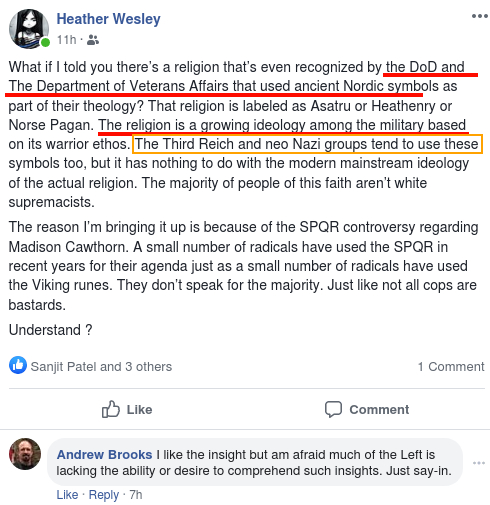 Next we're going to take a look at how the information Carrie compiles on anyone she deems a "member of antiFa" rapidly ends up on various white supremacist platforms. Carrie was originally outed as a part of the larger white supremacist movement in August of 2018. You'll notice when looking back at many of her social media sock accounts that the creation dates are typically September or October of 2018. In response to her and her husband Cesar's outing as a lifelong Neo-Nazi, and because she thinks of herself as some sort of tech-wiz Carrie began a campaign of targeted harassment against anyone and everyone with open stances against white supremacy in Asheville that she could find on social media. It's important to note that despite the intention of the harassment campaign, it created new ways for targeted antifascists to band together- including self-defense classes and raising enough money for firearms classes and concealed carry permits.

Now let's look to some of Carrie's old friends and how they link to the proliferation of targeted harassment publications filled with gross misogyny and transphobia. The key players here are going to be Brad Griffin AKA Hunter Wallace of the Occidental Dissident, and Michael Carothers AKA Michael Weaver of the White Information Network. Atlanta Antifascists have done some amazing work outlining both Carothers and Griffin and the history and extent of their organizing in white nationalist circles. The targeted harassment campaign against Carrie's perceived opponents was published back in January 2019 first on Carothers' White Information Network, then on Stormfront, the oldest white power website created by Klan leader Don Black back in 1995.
Bradley Dean Griffin of Eufaula, Alabama, has an extensive history of harassment campaigns against perceived enemies. Griffin worked with white nationalist Daniel McMahon (AKA "Jack Corbin" and "Pale Horse") against his opponents. McMahon spent years harassing anti-racists – especially women – but was finally arrested last year for cyberstalking, threats, and interference against a Black candidate for office. White supremacist Robert Bowers who in October of 2018 murdered eleven people and wounded six in an attack on the Tree of Life synagogue in Pittsburgh, had earlier offered Griffin an address for an anti-racist blogger targeted by Griffin.
Michael David Carothers has been an active white supremacist for over two decades. Carothers has been active in the National Alliance, and also in the white supremacist "World Church of the Creator" for several years beginning in 1999. Along with being a key APUSA member (tying him to events like Rock Stone Mountain II) he maintains the "White Information Network" site. This is one place Carrie was able to get the doxes of antifascists put online. White Information Network is a site where Carothers asks readers such things as to support terrorists like "Olympic Park Bomber" Eric Rudolph.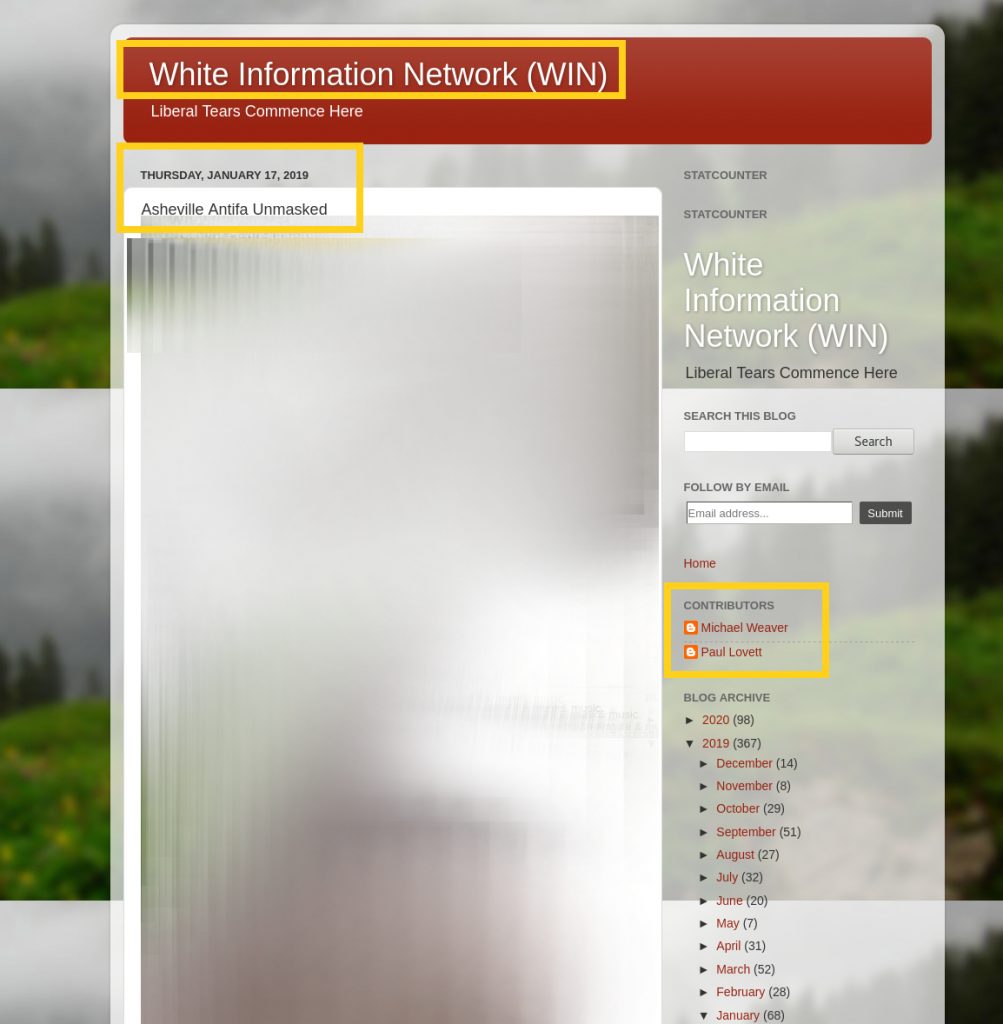 Before Carrie Lynn Pierce worked for Chad Nesbitt at Skyline News or even moved to Asheville, she already had tried to establish a career in the paranormal. This will constitute as the only journalistic experience Carrie has ever had, and sadly the most the most thorough of her work compared to her current job with Skyline News. Back in 2007 after her bid in the Air Force, Carrie moved to Canada and became to the director of her own paranormal research team called The Meadowvale Spookies. In her description of herself as Director on the team's website, she connects herself to the "Valkyrie" alias again, and confirms many of her past cities lived in, etc.
She even co-hosted a brief podcast known as Dead Hour Radio about the paranormal where she again ties us to another recycled alias, "Scary Carrie". When Carrie made one of her many psychic website profiles, she ties to a variation on her "Valkyrie" alias adding on to it to make it "Northern Valkyrie" to speak to her living in Canada at the time.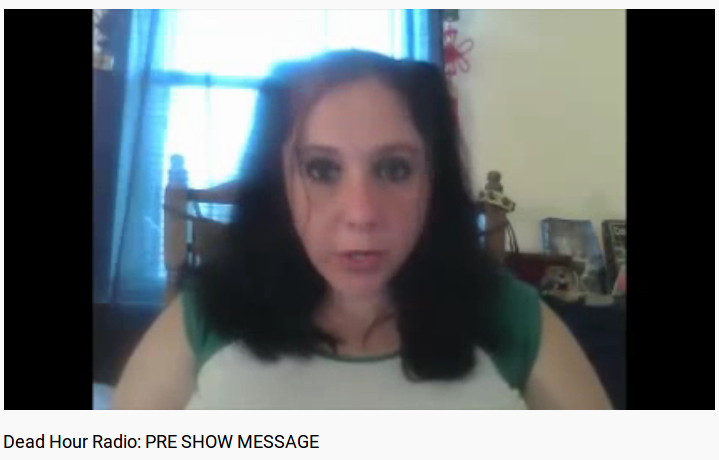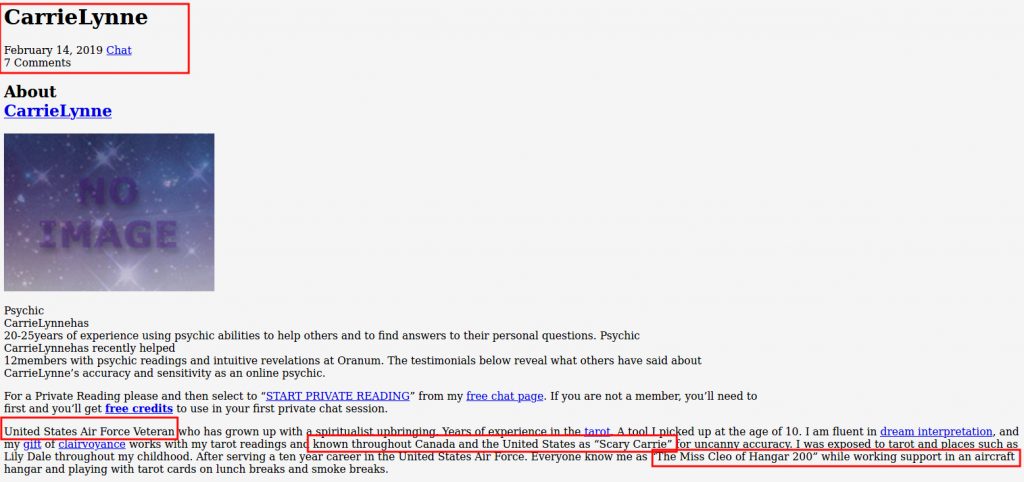 It is unsurprising that even back in 2010, Carrie was performing the exact same behaviors she's exhibiting now – a campaign to malign and harass her perceived opponents. As evidenced with a couple of screenshots below, Carrie began a flame war between the community of mediums she was operating in up in Canada after starting a website attempting to call out another psychic. Carrie's handling of being questioned about the validity of her words lead to backlash in a thread of comments naming all of Carrie's information and alleged misdeeds. One of which is the allegation she was scamming the Make A Wish foundation, which would indeed be particularly nasty and not outside the scope of possibility.
There were also a lot of foul characterizations and insults we didn't want to publish and give a platform from these comments either. Our enemies are our enemies and we will give them no quarter, but sinking to their level in insults is something we've learned causes more harm to our friends than our enemies.