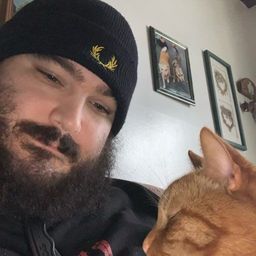 Bay Area Antifascist's and Torch crew, Bay161, recently described The Goyim Defense League (GDL) really well after identifying GDL members distributing flyers in their own area:
"The GDL is an explicitly genocidal group of neo-Nazis and antisemitic conspiracy theorists based around the social media presence of failed actor/rapper Jon Eugene Minadeo II. Previously a resident of Petaluma, CA, Minadeo has relocated to Florida, where he has worked with the National Socialist Movement and NatSoc Florida, two explicitly Neo-Nazi groups. Group "activism" is largely comprised of livestreaming, "Omegle trolling" or "irl" (in real life) antisemitic harassment, including banner drops and mass distribution of antisemitic flyers. The GDL semi-regularly holds "Name the Nose" tours, which are essentially antisemitic hate roadtrips. During one of these "tours" in Texas, a young neo-nazi emboldened by the increased level of open neo-nazi activity attempted to burn down the Congregation Beth Israel synagogue in Austin, Texas."
More recently, GDL co-organized a Nazi rally with Christopher Polhaus's Neo-Nazi group Blood Tribe. The event was billed as the 'March of The Redshirts' which both groups claimed would be the largest march under the swastika, and the largest unified action by Nazi groups since Charlottesville in 2017. The event was a major bust for GDL and Blood Tribe, with low turnout, infighting, and bad optics.
GDL's main Telegram chat currently has over 1,000 members and sometimes hundreds of messages a day, but like most Nazi chats, the bulk of this activity is coming from dozens of internet trolls spamming the channel. There's a steady stream of extremely bigoted content largely centering on promoting antisemitic and racist tropes and Neo-Nazi perspectives.
Richard Warren Young
Primary Property: 1500 Lawrence Road, Creedmoor, NC
Secondary Property: 1107 Allen Woods Road, Wake Forest, NC
DOB: 07/16/1966
Physical Description: 5'10", short graying, sandy colored goatee, short brown hair, blue eyes, old black ink tattoo on left outer forearm just above the wrist
Vehicle: 2006 Black Ford Pick up Truck, NC plate – KJ1430
Former Addresses in Zebulon, NC and Four Oaks, NC
Telegram: @cracker66, display name Fucker
Gab: @Reichsmarschall
Parler: @Mindyourbiznes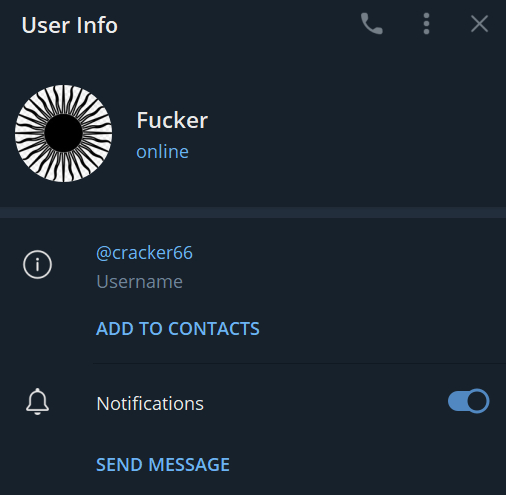 Richard Warren Young is an active member of The Goyim Defense League (GDL) who participates in their main chat under the username 'cracker66' with a display name of 'Fucker'. In this chat, cracker66 claims multiple times to be one of the people who distributed hundreds of GDL flyers in the Raleigh area on September 10th, 2023. In a recent news article, Richard Young is named as one of two people cited with a littering charge for distributing the antisemitic flyers klan-style – by putting the flyers in a ziploc bag with a filler (often sand or rice) to weigh it down and throwing these bags into the driveways and yards of residential homes.
A satellite view of Richard Warren Young's address at 1107 Allen Woods Road matches the layout of videos posted by cracker66 on Telegram, where he is showing the driveway filled with vehicles in order to display a drawn swastika on an El Camino. Richard Young also posts his age on Telegram, and that he grew up in the Northeast, mentioning how he's made trips into NYC to get coke. In another post on GDL's Telegram chat, Young talks about his experience "prospecting" for the Proud Boys, and how they weren't racist enough for his taste.
Richard Young's archived Parler account doesn't show much, but it does tell us a little more about his personal political journey into joining a Neo-Nazi group like GDL. Back in December 12th of 2020, there was "Stop the Steal" MAGA rally in Washington D.C, following the Millions for MAGA March one month before. Richard Young attended the December rally, which was largely attended by Proud Boys, and included both racist attacks, and the vandalism of a historic Black church.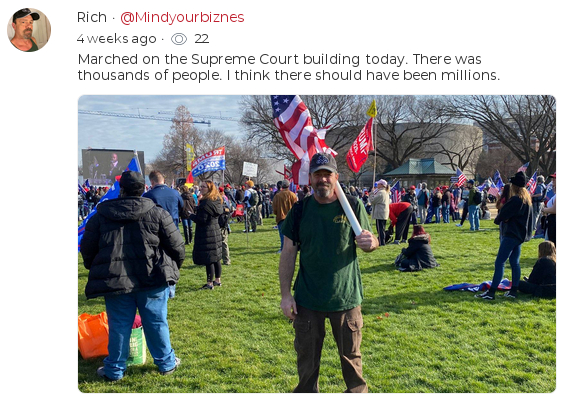 Another posted image by Young is of a Sovereign Citizen document titled Affadavit of Citizenship Evidence. By playing with the contrast and brightness of the posted image, the poorly redacted information on the form becomes visible – confirming cracker66's identity as Richard Warren Young.
The Sovereign Citizen Movement has clear white supremacist and anti-Semitic origins, and relies heavily on conspiracy theory. It was via William Potter Gale (who we will revisit further down in this article) and his Posse Comitatus movement that the concept of a "sovereign citizen" comes from in 1971. The group was functionally an ideological joining of anti-Semitic Christian Identity principles and anti-government pseudo-legalism. Though it became much more ideologically diffuse since it's creation, the Sovereign Citizen Movement has grown as a common vein of conspiracy theory among the far-right.

Some of Richard Young's other posted videos and photos include a bench with a painted american flag that replaces the stars with a swastika, the inside of his home and flyer printing operation of GDL materials, and a video taken when he and fellow North Carolina GDL member 'antiparasitic89′ were pulled over for littering the flyer-filled bags onto people's property outside of Raleigh. The video is roughly 2 minutes long and contains both GDL members' voices, but only shows Young in frame. Young stays in frame the whole time, and is seated in the driver's seat of his black Ford pickup truck as he interacts with police and ends up receiving the littering citations individually issued to the 2 Nazis from the car window.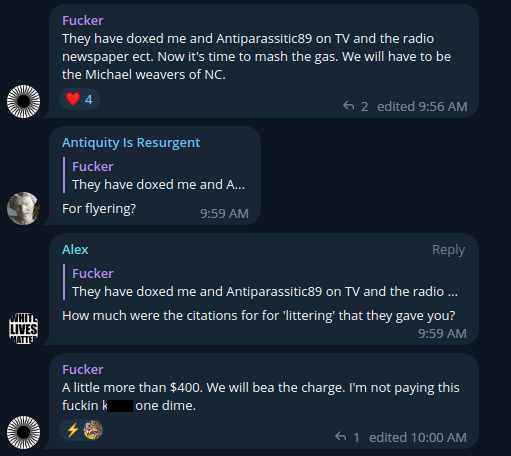 Wake County district court records show that the citations received include fines of $433.00 each, due by their next court date of November 14, 2023. The citations not only confirm the identity of cracker66, but also reveal the identity of Gab user 'antiparasitic89'; a fellow Nazi, former Proud Boy, GDL member and flyer-thrower named Joseph Chiddo of Raleigh, NC.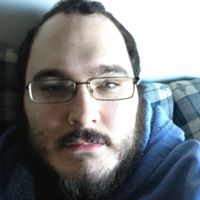 Joseph Frank Chiddo
Last Known Address: Stoney Hollow Condominiums, 7006 Longstreet Drive, Unit C, Raleigh, NC
5'09"
DOB: 03/20/1989
Gab: @antiparasitic89
Parler: @AmericanMonster89
Joseph Chiddo grew up in the Levittown, NY area where he attended General Douglas MacMaster High School in the class of 2007. His last known address is at his family home listed above, which matches the address listed in the police citation from last week, and take from his license. While Chiddo may not post as many photos and videos of himself doing Nazi activities, he is actually the most active online content promoter for the North Carolina GDL page on Gab. Unfortunately, Joseph Chiddo has very little online presence under his real name, and thus we are only presenting a few photos of him here. One from a mugshot in 2010, and 2 more recent profile pictures – from a since deleted account and Parler account.
Josep Chiddo's archived Parler account (surprise!) points toward both the Proud Boys and QAnon. In his profile picture, Chiddo is sporting a Proud Boys beanie, and his About section contains both Proud Boy slogans "P.O.Y.B." and "UHURU". POYB is an acronym for "Proud of Your Boy", and UHURU is used as a catchphrase by the Proud Boys, but is stolen from the Black Power movement. Joseph Chiddo was ever a cereal-naming member of the group or not, but it does show open support for the group. The about section also includes the acronym "WWG1WGA" meaning "Where We Go One, We Go All". This is a hallmark of the antisemitic QAnon Conspiracy theory and it's adherents.
When taking a closer look at Joseph Chiddo's 'antiparasitic89' Gab profile, we can see a lot more fascistic, Neo-Nazi and antisemitic dog-whistles. For instance, Chiddo signs off most of his posts with the letters "WP" or "WFP" meaning "White Power" or "White Fucking Power". These letters are often accompanied by the characters "O/", which are meant to represent an emoticon of a person giving a roman salute or "seig heil". Similarly, Chiddo uses the sign-off "Hail Victory", which is again, a translation of the German words 'seig heil". In the About section of Chiddo's profile, we can see that the first sentence is the white supremacist slogan "14 Words" as coined by Neo-Nazi David Lane. Lane was a founding member of white supremacist terror organization The Order.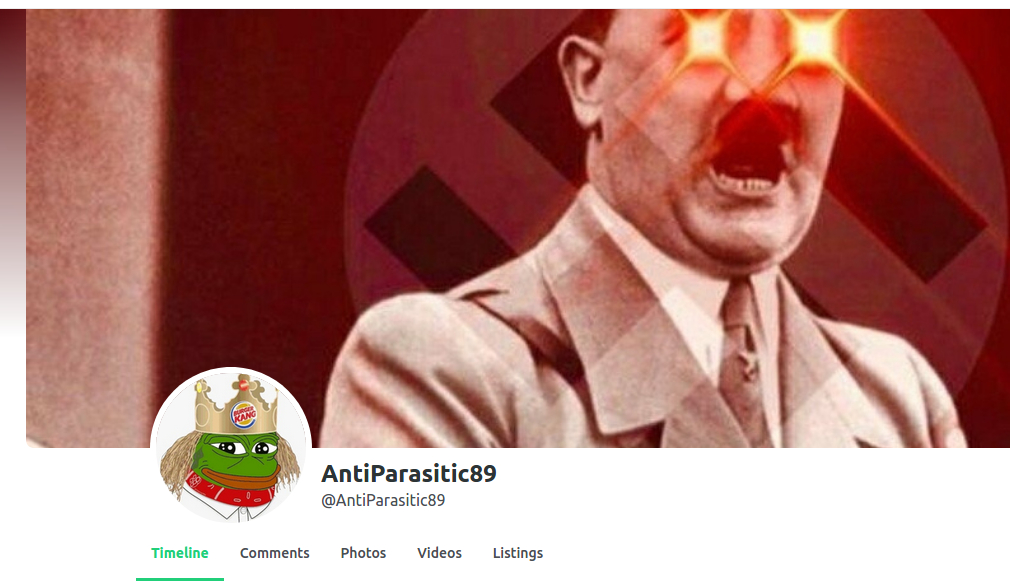 Chiddo also clearly states in the 'About' section of his Gab profile that he is an "White Christian Identitarian". Let's look at both Identitarianism and the Christian identity Movement to parse through Chiddo's ideology and why he chooses to say what he does in the rest of the section.
Identitarianism is an ethno-nationalist, proto-fascist ideology that claims white people exclusively hold the rights to Western society, and falls into the category of a racialist ideology since it defines Europeans as a separate race. Identitarianism is mostly derived from the far-right French neo-fascist movement Nouvelle Droite, and is characterized by it's recycling of explicitly fascist and Nazi ideas, including a rejection of the principle of human equality, a call for national rebirth, and a populist ultra-nationalism. Notably, this ideology is pervasive in the US far-right movement and adhered to by groups like the defunct Neo-Nazi Traditionalist Workers Party, defunct ethno-nationalist Identity Evropa/American Identity Movement, Richard Spencer's National Policy Institute, and fascist publishing house, Arktos Media.
The Christian Identity Movement is the antisemitic off-shoot of the 19th-century theory of British Israelism, which claimed Anglo-Saxons and Germans are the direct descendants of the biblical Lost Tribes of Israel. Christian Identity adherents believe that biblical Adam and his offspring were exclusively White, and that all non-white races are a separate, sub-human race. The leader of the fascist Silver Shirts, William Dudley Pelley was also inspired by the Christian Identity Movement, and is noted by one of his biographers as "one of the first Americans to create an organization celebrating the work of Adolf Hitler." The Christian Identity Movement is steeped in white supremacist organizing, with its leaders' William Potter Gale (as mentioned above in relation to the sovereign citizens movement) and Wesley Swift involvement in multiple white supremacist organizations between the two of them, like the Ku Klux Klan, Christian Defense League, Aryan Nations, Posse Comitatus and many more.
Joseph Chiddo is just as active of an antisemitic flyer-throwing Nazi as Richard Young is, and the vast majority of all content on the North Carolina GDL page are posted by Chiddo and Young. Richard and Joseph have recently taken the next step in their flyering campaigns by doing them together. The other few NC GDL members who are further away geographically seem to feed them graphics and other Nazi promotional material to spread, when they aren't spreading antisemitic propaganda themselves.
If you have any other information on Joseph Frank Chiddo of Raleigh, NC or on Richard Warren Young of Wake Forest, NC please send it our way via email at ashevilleantiracism@protonmail.com. And as always, don't give either of these antisemitic trolls an inch.